Work as a Entertainment Leader in Lanzarote
Costa Teguise
(
Lanzarote
)
We are looking for an experienced entertainer leader to work in the island of Lanzarote
We are looking for an entertainer leader who want to improve their professional career and become part of an expanding company. Commited with work and reliable when it comes to run teams and obtain results. If you are looking for a job as a entertainer leader or you want to work as a tourist entertainer and put together teams, sign on this offer.
Team 3, 4 entertainers.
Details
:
High Spanish and English level and knowledge of German and French are required.
Proven experiencie of at least one year as Entertainer Leader.
Training in Tourism will be an asset.
Capacity to run groups and obtain results.
Work throughout the year.
Board and lodging in the Hotel.
Entertainers will have food and drink in the Hotel.
Indefinite-term or fixed-term contract:
Work accident mutual insurance and civil liability insurance (during working hours).
Labour risk prevention.
Social Security.
30 (calendar) days of holiday per year worked.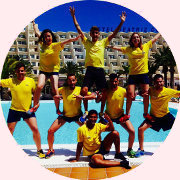 If you meet the requirements and think this work is for you, sign up for this offer:
If you don't meet the requirements, sign up for one of our training courses: