Animation manager for Menorca
We are looking for team leaders for Menorca to lead small teams of 3 to 4 animators.
Aminimun of one year experience as a team manager is required
With knowledge of running a Miniclub and Sports Activities 
Required good level of English
Required
:
English

,

Spanish
Details
:
English and Spanish
ability to organize activities and mini-club programs.
Entertainers will have food and drink in the Hotel.
Indefinite-term or fixed-term contract:
Work accident mutual insurance and civil liability insurance (during working hours).
Labour risk prevention.
Social Security.
30 (calendar) days of holiday per year worked.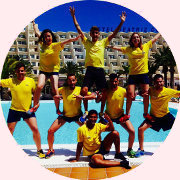 If you meet the requirements and think this work is for you, sign up for this offer:
If you don't meet the requirements, sign up for one of our training courses: